Automated temperature scanning
Designed to break chains of infection
Contactless temperature checks for employees and customers to identify abnormal body temperatures. It keeps your team virus-free while respecting privacy.
Automated temperature scanning​
#NoFever is an innovative approach to health protection adapted to the modern work environment. With our patent pending technology, carry out contactless fever scanning for employees, visitors and customers to check for abnormal body temperature and create a virus-free environment.  
• Medical precision fever detection
• Contactless temperature check in 10 seconds
• Anonymous results
• No sensitive data storing! • GDPR compliant
• Plug and play solution
• Can be equipped with hand sanitizer or a ticket printer
• Height adjusting or wall-mounted options
• Can be implemented in gatekeeping or other systems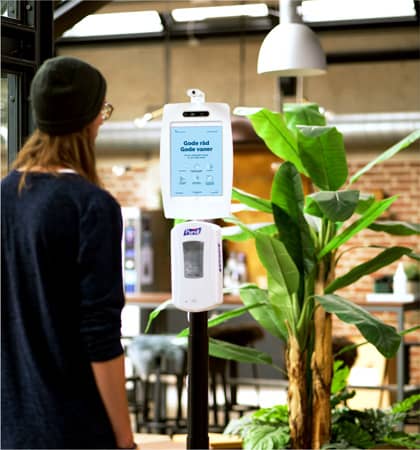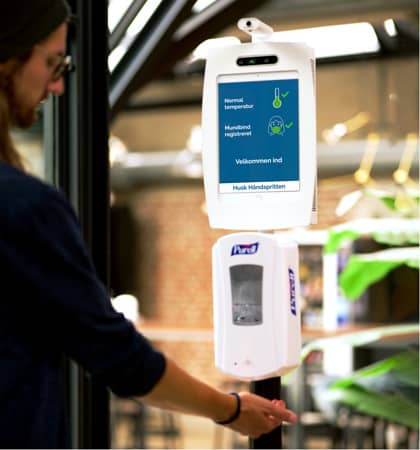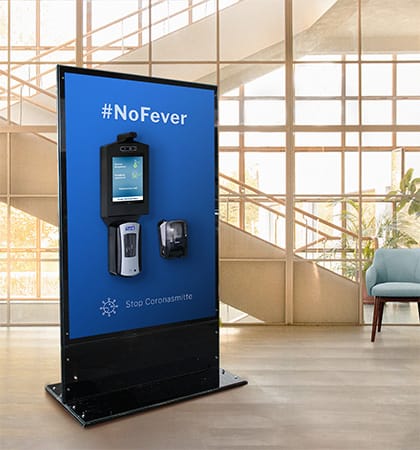 How exactly does it work?
Simply walk up to #NoFever and follow instructions
The robot automatically adjusts the height to get the most accurate data and it can be used by anyone – adult or child and also people in wheelchairs.
For temperature measurement fit the contour with your face as shown on screen. The robot automatically scans for both temperature and mask.
For anonymity, results are displayed on the screen or on a printable ticket while adhering to all GDPR regulations.
What our partners say about #NoFever​
"We're excited about #NoFever and very happy for the security it has given to everyone"
"#NoFever is a product JCD can vouch for."
"I am sure that the robot has created greater security here for the benefit of the individual but also for the benefit of Terminal Aalborg"
"Facilitation of Coronapas check will be a good and necessary tool to optimize our work. "
Explore what we
have been working on
We like robotics and technology!
Get a sense of our capabilities in our portfolio that ranges from a six-legged "spider" robot to an innovative automatic fever scanner.
Partners, friends and customers